This review is taken from PN Review 258, Volume 47 Number 4, March - April 2021.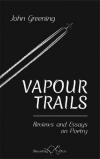 Up the Line to England
Vapour Trails: Reviews and Essays on Poetry, John Greening (Shoestring) £12.50
'I believe there is still such a thing as English poetry', regular PN Review contributor Greening states in his preface: the first half of this book accordingly explores 'Varieties of Englishness', as the subheading puts it. Beginning with the First World War poets Edward Thomas and Edmund Blunden, Greening surveys evidence for the survival of what might be lazily tagged 'traditional' English poetry. The ambiguities in Thomas's life and writing once again surface, whilst a brief examination of Blunden's work concludes 'he is not a complacent pastoralist; he is terrifying'. The former's apparent rural simplicity has long been challenged; the latter's work awaits similar recuperation. Greening finds, however, continuities in unusual places: Kathleen Raine, Norman Nicholson, Patricia Beer.

With the poetry of Raine, Greening considers whether her oracular mysticism is naive or 'compelling', concluding that avoidance of metaphor and the use of symbols allows writing that is somehow 'authentic' and archetypal. This deliberate narrowing of scope allows her to avoid abstraction, but one wonders if summarising her work as 'drawing-room civility' really has much purchase today. The case of Norman Nicholson is more straightforward, if puzzling. Like Charles Causley, another poet Greening is sympathetic to, he has been docketed as a regional writer, yet the fall of this former Faber author into obscurity has been swift. Greening concludes that his late work may prove more compelling than his rather formally old-fashioned celebrations of Millom and district. Regarding Patricia Beer, instead of focusing on locality, Greening isolates her 'understated' swerving style of tackling family, ...
The page you have requested is restricted to subscribers only. Please enter your username and password and click on 'Continue'.
If you have forgotten your username and password, please enter the email address you used when you joined. Your login details will then be emailed to the address specified.
If you are not a subscriber and would like to enjoy the
272
issues containing over
11,000
poems, articles, reports, interviews and reviews, why not
subscribe
to the website today?