This review is taken from PN Review 255, Volume 47 Number 1, September - October 2020.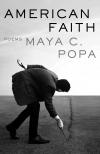 Three Books
The Caiplie Caves, Karen Solie (Picador) £10.99. Marine Cloud Brightening, Medbh McGuckian (Gallery Press) €11.95. American Faith, Maya C. Popa (Sarabande) $15.95

On a very obvious level, these are three books with three very varying forms of address. For Karen Solie, the narrative of these poems is very often couched in a third person, past tense. That grammar establishes the sense of history in the poems, but the direct, uncluttered nature of Solie's writing means that the history, itself, is very alive. Medbh McGuckian is, perhaps, sometimes pigeon-holed as a writer of a kind of ecriture feminine. That writing often uses a simple present tense, the effect of which is to present what might appear to be somewhat mystical states and statements, very directly and forcefully. With McGuckian, you get the idea that sentences and actions are one and same; the writing is the state. Maya C. Popa's debut volume, American Faith, falls between these two writers; sometimes there is a present tense directness in which process is enacted. And sometimes there is a narrative, usually of a very personal kind, which the reader is invited to share.

Karen Solie's The Caiplie Caves is a large compendious book weighing in at some 120 pages. At its centre is the story of St Ethernan, a seventh-century Irish missionary to Scotland who retreats to the eponymous caves to decide whether to pursue a communal or a solitary life. On that level, the book offers a reimagining of a life lead some thirteen hundred years ago. But Solie threads through the book other narratives. ...
The page you have requested is restricted to subscribers only. Please enter your username and password and click on 'Continue'.
If you have forgotten your username and password, please enter the email address you used when you joined. Your login details will then be emailed to the address specified.
If you are not a subscriber and would like to enjoy the
271
issues containing over
11,000
poems, articles, reports, interviews and reviews, why not
subscribe
to the website today?