This article is taken from PN Review 253, Volume 46 Number 5, May - June 2020.
Pictures from the Rylands Library
50. Unlocking the Secrets of Julia's Sweetheart
A LOCKET is a complex thing: a metal plate, belt or bolt; a fastening device, catch or clasp; a strand of hair or wool; and a small case made of gold or silver worn as jewelry around the neck containing a memento such as a portrait, photograph or lock of hair. Inscribed within them at the time of their making lockets embody an aesthetic of the hidden. As 'materialised secrets' (Susan Stewart), lockets are 'unfathomable stores of day dreams of intimacy' (Gaston Bachelard). Lacking the written testimony of its provenance the particular, nineteenth century example shown here seems especially keen to withhold its secrets. And yet this composite object is not quite mute for matter is vibrant and the 'souls of the dead remain trapped within objects until someone comes to deliver them' (Marius Kwint), by piecing together their life histories from the clues and traces encoded within their 'affordant properties' (Jody Joy).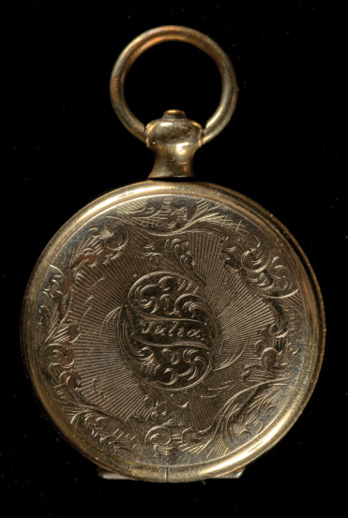 Mass produced but no less precious for that, this little locket's gilded exterior glints. In masking metal of a cheaper manufacture it suggests it was once the property of a person of lesser means. On closer inspection it is possible to see the tiny letters of the name of 'Julia' cut into the gilt, invoking the identity of the spotless neck it once adorned. The clasp unlocks, opens and reveals the hand-coloured rosy cheeks of a young man in the form of a photographic portrait, and a lock of his golden hair. Is this Julia's sweetheart? ...
The page you have requested is restricted to subscribers only. Please enter your username and password and click on 'Continue'.
If you have forgotten your username and password, please enter the email address you used when you joined. Your login details will then be emailed to the address specified.
If you are not a subscriber and would like to enjoy the
267
issues containing over
10,800
poems, articles, reports, interviews and reviews, why not
subscribe
to the website today?