This review is taken from PN Review 248, Volume 45 Number 6, July - August 2019.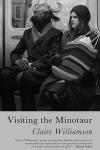 After Action
Claire Williamson, Visiting the Minotaur (Poetry Wales Press) £9.99; Benjamin Hertwig, Slow War (McGill-Queen's) $16.95
Is everything war time these days? From actual war (Syria, Afghanistan) to virtual war (video games, American football) to the culture 'wars' and politics, everything seems weaponised. We're always cocked and locked. When Claire Williamson, in her excellent
Visiting the Minotaur
, describes giving birth as a battle 'like the Somme' you get the rhetorical point (it's 'no man's land') while wincing at the conflation, the imprecision. The comparison is just too easy, too rote; it makes birth and battle meaningless. Warfare metaphors work better when they're hidden or displaced. Fortunately, this blunt excess marks the limit of what Williamson pushes up against – up to but not through – in poems that treat life as a series of tripwires; that thread doesn't lead you through the labyrinth but is attached to a Claymore mine. The Minotaur is coming for you:

plunging through three-and-a-half thousand years:
an earthquake, eruption, tsnunami,
the rising myth of Atlantis,
so that I'm swimming next to bovine hide,

pulled through the labyrinth's two thousand rooms

Masked by myths and history, Williamson's poems teeter on the ledge caused by loss and wounding. Reports of a wolf in the Czech Republic ('while packs roam the Polish border / licking their lips'): 'Characters known to my children / only in storybooks from libraries / pop up, land in their laps.' Threats can come from anywhere – death from above arrives in a poem about 'Guernica', town and painting – but mostly from within ourselves. The suicide support ...
The page you have requested is restricted to subscribers only. Please enter your username and password and click on 'Continue'.
If you have forgotten your username and password, please enter the email address you used when you joined. Your login details will then be emailed to the address specified.
If you are not a subscriber and would like to enjoy the
272
issues containing over
11,000
poems, articles, reports, interviews and reviews, why not
subscribe
to the website today?