This review is taken from PN Review 248, Volume 45 Number 6, July - August 2019.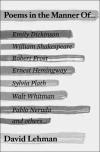 Rewind
David Lehmann, New and Selected Poems (Simon & Schuster) $20; Poems in the Manner Of (Simon & Schuster) $18
David Lehmann's New and Selected starts with new poems and runs, Merlin-like, back to the poems of his first book. In that first book, there are poems which bounce off other poems, such as 'For I Will Consider Your Dog Molly' based on Christopher Smart's 'For I Will Consider My Cat Jeoffrey'. In his newest book, Poems in the Manner Of, Lehmann reprints that poem, along with a range of other pastiches and parodies from Catullus to Susan Sontag, via Wordsworth, Eric Ambler, Freud, Lowell and too many others to list here. In his introduction to Poems in the Manner Of, Lehmann comments that he wants 'to honor my influences and impulses in the hope that the end product warrants the reader's attention. I wanted to make the case for the value of imitation as a creative strategy'. His publishers, on the back-cover blurb, consider the book 'a valuable resource for creative writers', which it may be.

Lehmann's undoubted skill with pastiche means that sometimes his writing might be mistaken for light verse. Right from the start of his career, there is sometimes a casual, almost offhand feel to his poetry, which could lead the reader to underestimate the considerable depths of feeling which animate these poems. One such early poem is 'Fear', which begins, 'The boy hid under the house / With his dog, his red lunch box, and his fear / Thinking God is near'. The simplicity and understatement of the poem carry on in this vein, so that when Lehmann's plays with time in ...
The page you have requested is restricted to subscribers only. Please enter your username and password and click on 'Continue'.
If you have forgotten your username and password, please enter the email address you used when you joined. Your login details will then be emailed to the address specified.
If you are not a subscriber and would like to enjoy the
266
issues containing over
10,800
poems, articles, reports, interviews and reviews, why not
subscribe
to the website today?