This review is taken from PN Review 244, Volume 45 Number 2, November - December 2018.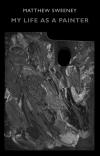 Still Life
Matthew Sweeney, My Life as a Painter (Bloodaxe), £9.95
Even in these late times, there are certain proprieties around death. If it is possible (perhaps even de rigueur) to have a 'no-fuss direct cremation' funeral, one is not supposed to speak ill of the dead. De Mortuis, and all that. It may be superstition, inherited from our Roman forebears, but I've been alert to it as I've prepared to review Matthew Sweeney's twelfth volume of poetry. As I write, Sweeney has newly joined the great majority and I am alert to the challenge of writing critically about the work of one so freshly deceased. If all critics have long since imbibed the distinction between 'writer' and 'writing', recent death does tend to weigh on the mind. (My anxieties, I suspect, would amuse Sweeney greatly; if he could, he might even incorporate it into one of his characteristic pieces of surrealistic fancy.)

Tempting though it is, then, to see My Life as a Painter as a kind of culmination, I shall (mostly) resist. Sweeney writes, in the title poem, 'I often find a wish going through me to remake myself/as a painter.' It's a response to those lines of Frank O'Hara, offered as the collection's epigraph: 'I am not a painter. I am a poet. / Why? I think I would rather be / A painter, but I am not.' Sweeney's poem offers not so much a desire for a late change of vocation, as a reiteration of a familiar Sweeney trope: a way to play amusingly and surreally with a problem, a gambit (in this case, the story of a gun-toting father who kills birds for supper). If the poem is a meditation on death, ...
The page you have requested is restricted to subscribers only. Please enter your username and password and click on 'Continue'.
If you have forgotten your username and password, please enter the email address you used when you joined. Your login details will then be emailed to the address specified.
If you are not a subscriber and would like to enjoy the
266
issues containing over
10,800
poems, articles, reports, interviews and reviews, why not
subscribe
to the website today?