This review is taken from PN Review 242, Volume 44 Number 6, July - August 2018.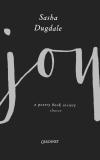 A Magnificent Fury

Sasha Dugdale, Joy (Carcanet) £9.99
In a letter to Henry Church, Wallace Stevens wrote, 'The belief in poetry is a magnificent fury, or it is nothing.' What 'belief in poetry' comes down to is belief in individual consciousness, in its inherent potential for freedom – from group-identity, ideology and dogmatism – and for our capacity to communicate that consciousness through unjustified words on a page.
During her five years as editor of
Modern Poetry in Translation
, Sasha Dugdale has amply demonstrated her belief in poetry.
Joy
, her fourth and finenest collection, exhibits the same hard-won belief and the same fury. But there is a new joy running through it. The first poem, 'Maldon', from
Red House
, Dugdale's third collection, concluded – 'And when the sun rises, it will seem to our ancestors that a new race / Has come out of the sea, dripping with gold, crueller than the last'. Influenced by the great Russian poets, the poems of Red House risked obliterating individual consciousness (and therefore empathy) in horror.
Joy
, by contrast, manages to acknowledge terror whilst celebrating our individual potential for good. It includes two remarkable monologues, a fine villanelle on the death of her father, 'Valentine's', 'How my friend went to look for her roots', and casual cruelty:

Mabel's brother says he saw the Crimea
But came home for his chest
Once he told Mabel she had nothing to fear
And felt under her dress
('The Ballad of Mabel')

Taken as a whole, Dugdale's new collection is ...
The page you have requested is restricted to subscribers only. Please enter your username and password and click on 'Continue'.
If you have forgotten your username and password, please enter the email address you used when you joined. Your login details will then be emailed to the address specified.
If you are not a subscriber and would like to enjoy the
272
issues containing over
11,000
poems, articles, reports, interviews and reviews, why not
subscribe
to the website today?