This review is taken from PN Review 237, Volume 44 Number 1, September - October 2017.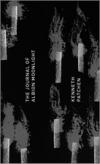 'What is it like to be a cow?'
Kenneth Patchen, The Journal of Albion Moonlight (New Directions), $17.95
It is good to see New Directions bringing out a new edition of
The Journal of Albion Moonlight
. Ironic too, given that the founding editor of New Directions, James Laughlin, initially rejected the book, describing it as a 'hopeless mess' and writing to Patchen in January 1941 that 'it would have damaged your reputation terribly' (see
Selected Correspondence of Kenneth Patchen
, Bottom Dog Press, 2012, p. 103). With the encouragement of Henry Miller, Robert Duncan and others, and the financial support of figures such as Wallace Stevens, Patchen had the book privately printed in June 1941, and eventually New Directions brought it out in 1946.
The Journal of Albion Moonlight
takes as its inspiration the anonymous pre-Shakespearean poem, 'Tom o'Bedlam':

With an host of furious fancies
Whereof I am commander,
With a burning spear and a horse of air,
To the wilderness I wander.
By a knight of ghosts and shadows,
I summoned am to a tourney
Ten leagues beyond the wide world's end:
Methinks it is no journey.

From the beginning, we are taken into a crazy nightmarish otherworld. However, this otherworld is always intertwined with the political reality of the times: war was raging across Europe and all the talk was of whether the USA should come to Europe's rescue. Patchen took a deeply pacifist stance and indeed saw his book as a wakeup call to the world to stop its descent into self-destruction. The 'mess' of the book is intended to reflect ...
The page you have requested is restricted to subscribers only. Please enter your username and password and click on 'Continue'.
If you have forgotten your username and password, please enter the email address you used when you joined. Your login details will then be emailed to the address specified.
If you are not a subscriber and would like to enjoy the
280
issues containing over
11,300
poems, articles, reports, interviews and reviews, why not
subscribe
to the website today?